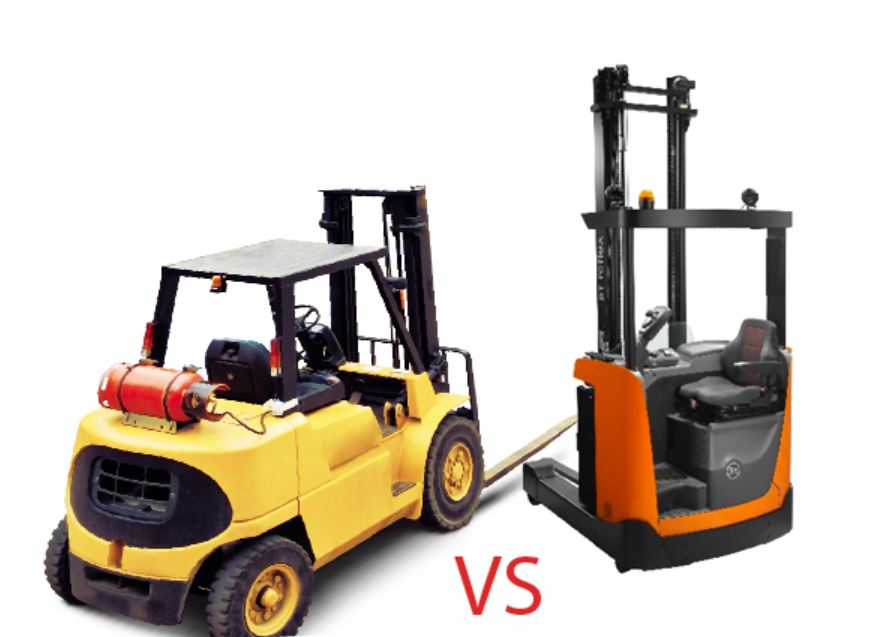 The question we get asked most often is whether you should go for gas or electric in your application and the answer really lies with what you want to do with the machine.
Battery
Batteries electric forklifts are not new, they've been around in warehouses for the best part of 40 years and for good reason.  They're clean, cheap to run and maintain and are by far the stronger pound for pound at lifting. If your application has food or product that must be kept free of contaminants then electric is the best option. This means you're also able to save money on gas bottles so they're a lot cheaper to run as well.
As the moving parts on an electric forklift are fewer than in a gas or diesel forklift, the maintenance costs are also a lot lower. It also means that if you're in a low use application, and only do a few hours a week, your service intervals are spaced further apart because oils won't degrade with lack of use like they might in a gas forklift.
Perhaps the best reason for an electric forklift is that walk behind models don't require a licence to operate and some simple training provided by Forkpac is enough to get you up and running. This is great if you're starting out, have a high turnover of staff or if having a full blown forklift would be dangerous in your operation.
Ride on electric forklifts do require a licence but they are the most versatile. Most are designed to work in large warehouses for multiple shifts and can lift beyond 10m. In Europe it's not uncommon to see electric forklifts designed 10 and 15 tonnes! In Australia however a capacity of between 1 and 2 tonnes is more likely.
Go for electric if you're working inside, at height or don't want to get a licence.
Gas
Gas forklifts have a really important role to play in any materials handling operation. Although the cost of gas is on top of any hire or repayment costs, gas forklifts don't require long periods to charge. This is great if you're working around the clock, if you're on site and a suitable power outlet isn't available or if you're working outside.
Gas bottles are quick and easy to change and can be done mid shift so you never have to wait for a break in the day to charge the machine. They're also great if you're setting up and don't have a power supply ready.
One thing that electric forks have never been able to match is the ability to go anywhere in any whether. Gas forklifts are designed to work over more rough terrain, outside on bitumen or broken concrete. They are also built with clearance in mind but that does mean the turning circles can suffer.They also handle a bit of rain which is never something you want to try with an electric forklift twice.
Go for gas if you're working outside, to unload trucks on a hardstand.